Concert Dedicated to the Victims of NATO Aggression
This evening, on the Main Stage of the National Theatre in Belgrade, the Artistic Ensemble of the Ministry of Defence "Stanislav Binički" held a concert titled "Never Forget" dedicated to all victims of NATO aggression.


Apart from the Ensemble Binički and choirs of the Ministry of Defence and Serbian Armed Forces and Children's Centre of Culture, the concert included the performance of Goran Šepa, Zorana Pavić, Kiki Lesandrić, Mia and Una Ganić, Oliver Njego, Snežana Berić-Extra Nena, Žarko Dančuo and soloists on a trombone and pipe Aleksandar Benčić and Bora Dugić. The conductors were Katarina Božić, Igor Mitrović and Vojkan Borisavljević.

Following a brief recollection of the 78 days of suffering that marked the year 1999, the programme began movingly and emotionally with "A song for a little angel" by which the Children's choir brought back the memory of three-year-old Milica and all the little ones who had lost their lives during the bombardment of our country.

Then, the Head of the Ensemble Commander Svetozar Vasileski called the audience to pay homage to the innocent victims of the aggression, which was done through the performance of "Vječnaja pamjat" by Mokranjac, with soloist deacon Aleksandar Sekulić who performed together with "Binički" and the Choir.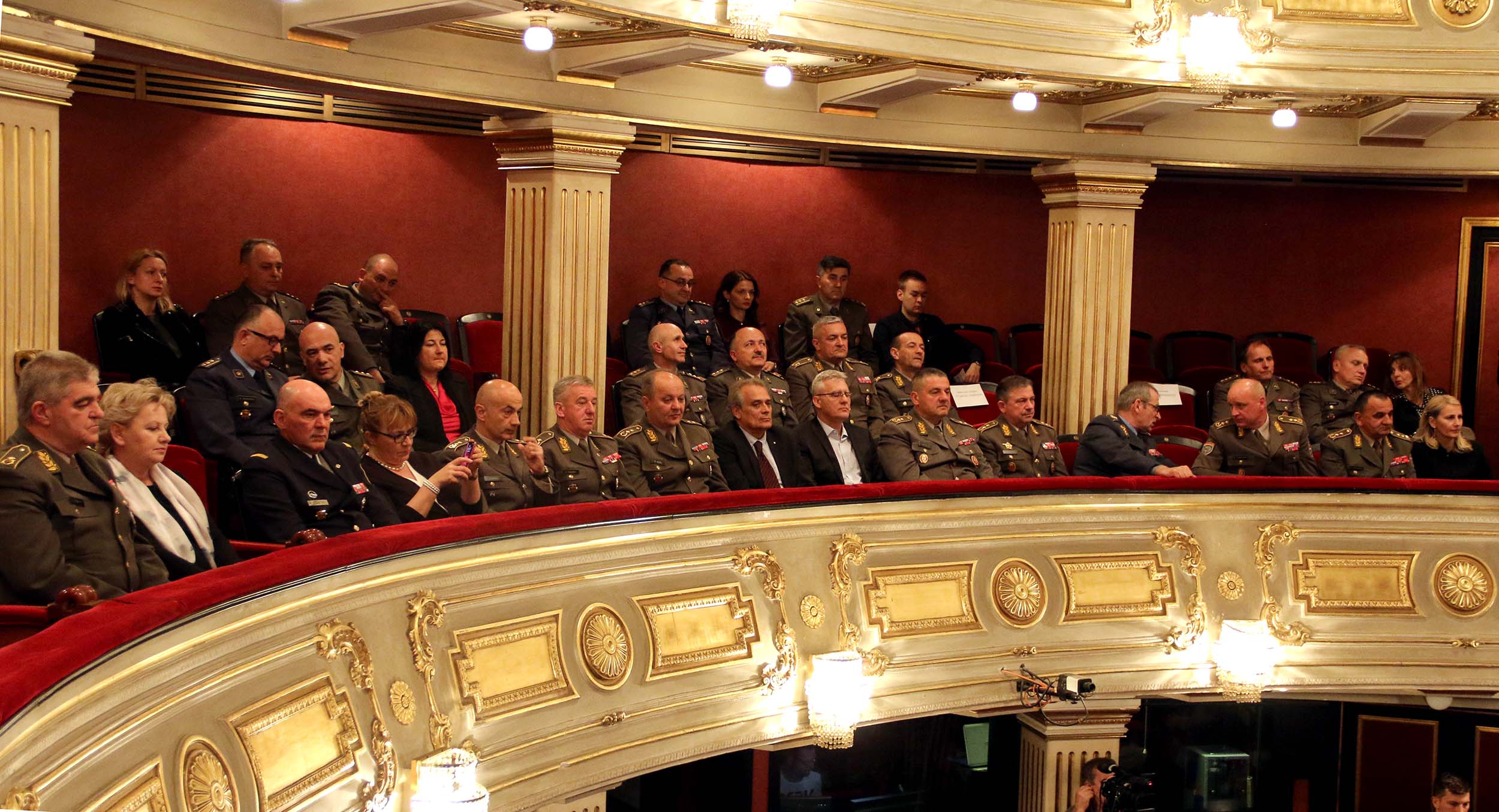 The painful memories were revived by "The Ballad of the Unborn" by Bora Dugić, "Actus Tragicus" of Ivan Jevtić with the soloist on the trombone Aleksandar Benčić, and distressing "Fairy from Košare" performed by the Choir of the Ministry of Defence and Serbian Armed Forces.

"May the war games stop" was the message of Goran Šepa, the Choir sang the song "The Heart of a Hero", Zorana Pavić sang "Grudi moje Balkanske" by Neša Leptir, and Kiki Lesandrić painted his performance in the colours of the spring with his well-known song "Like a Bird on my Palm".

Eleonora Barudžija performed the song "The Night is Dark", sisters Mia and Una Ganić sang the famous Coen's song "Hallelujah", the concert participants sang "Our Children" and the Choir performed a speaking fugue "Serbia". Oliver Njego won a rapturous applause with his song "This is Serbia", as well as the Children's Choir with the song "This is a Country for us".


The concert was concluded with the song "We Love our Fatherland" performed by Snežana Berić and Žarko Danču, who were later joined by all the participants of the programme, reviving the memories of the days when the people defied the aggression with the music from the squares, bridges and streets, just like this evening as well it was stated through the music that there cannot be oblivion and that the memory of the innocent victims would last forever.

The concert "Never Forget" was attended by high military officials, members of military diplomatic corps and numerous members of the Ministry of Defence and Serbian Armed Forces.